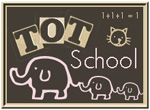 Chook 30 months, Strawberry and Ooffa 13 months
Tot school seems to get outside a lot! This week we have been very busy. Monday was a very hot day so we spent a lot of the time in the nice cool air conditioning. Tuesday I was in the kitchen cooking up some new slow cooker recipes and baking muffins. Wednesday
Strawberry and Ooffa had their immunisation needles, so we took things very easy on Thursday and Friday. Strawberries arm hurt lots and lots but she's feeling much better today!
We went to Helm's Arboretum on Saturday morning for a walk and morning tea. Although our theme has been Farm Animals this visit prompted a change of topic to insects. As we were leaving our house we saw this huge stick insect on our fence. In the picnic area we found this ladybug at our picnic table. After singing the song "Ladybug, Ladybug" Calum held it and it crawled all over his hand before she flew away.


Isn't it beautiful!


<><><><>

<>
>

>>>>

Watching the Ladybug.

<><><><>

>>>>
Smelling the bush flowers.

Finding pine cones.

So much space to run.

Exploring a skull.

Tiny Tot School
Ooffa has been practicing his walking skills and took his first steps on Saturday. He was so chuffed with himself. I was impressed that he started his first steps by first standing up and then taking his steps! Soon Ooffa will be officially a toddler and no longer my baby boy.
According to Waldorf philosophy between the ages of one and two it's all about practicing new motor skills and exploring the world around them. This is best met through free exploration around the home. Taking things apart, stacking and knocking things down are all appropriate activities to engage this age group in. Lots of outdoor exploration, safe climbing, time in the swing and the sandpit. Allowing the child to explore without adult interaction is encouraged, but be available with encouragement and interaction when your tiny tot brings something to look at or wants you to come and look.
So keeping this in mind I have encouraged block play. Exploring outside under the patio and in the garden. Climbing up on the couch. Taking turns on the swing at the park and playing in the sandpit. So much of this occurs naturally everyday that I haven't taken any photos but it is all so valuable to their development.
A note on how we use literature: You may have noticed we read the same book over and over. This is a deliberate decision by me. There is so much magic to be found in quality children's literature. By sharing the same story over and over again my children have time to digest the meaning and become intimate with the story. I also hope to convey the value of savouring an experience instead of persueing more of something.